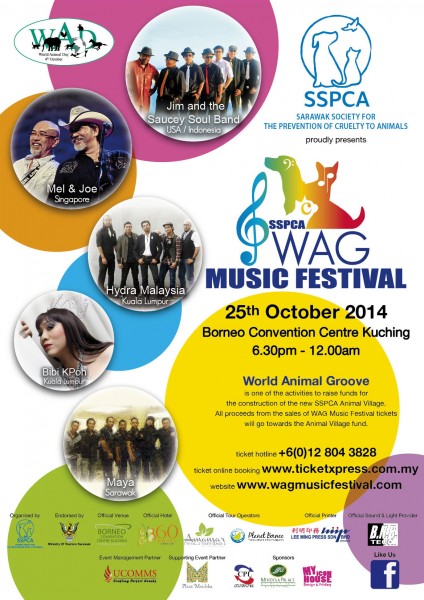 For the third year running, the Sarawak Society for Prevention of Cruelty to Animals (SSPCA) will host a series of exciting events to commemorate World Animal Day in celebration of the animals which share our lives, and our world.
The main events will be held on 24th and 25th October, 2014at Borneo Convention Centre Kuching (BCCK). Our main event - the World Animal Groove (WAG) Festival - takes place on Oct 25, 2014 and will feature an evening of artistes, performers and stand-up comedians from Malaysia, Singapore, USA and Indonesia. Music genres will range from tradition to country and contemporary fusion tunes.
WAG Music Festival 2014 program on October 25 at Borneo Convention Centre Kuching
TIME
PROGRAM
WAG BAZAAR
12:00noon
WAG Bazaar
WIGGLE WAGGLE WALK
1:45pm
Registration for Wiggle Waggle Walk
2:00pm
Wiggle Waggle Walk begin
INTER FAITH PET BLESSING
3:30pm
Inter-faith pet blessing
WAG FESTIVAL CONCERT
TIME
PERFORMER
7:30pm - 7.50pm
Sarawak Youth Band Challenge Champion
8.00pm - 8.45pm
Maya (Sarawak)
8.55pm - 9.40pm
Mel & Joe (Singapore)
9.50pm - 10.30pm
Bibi Kpoh (Kuala Lumpur)
10.40pm - 11.25pm
Jim and the Saucey Soul Band (USA/Indonesia)
11.35pm - 12.20am
Hydra Malaysia (Kuala Lumpur)
The SSPCA began its work in Kuching in 1959, formed by a small group of expatriate officers who were moved by the sight of the diseased dogs and sick animals that roamed the streets. It was legally registered under the Registrar of Societies as the "Kuching Society for the Prevention of Cruelty to Animals (KSPCA) on 11 September 1962. In the years following, with the departure of many of its early members, the Society became inactive but was never de-registered.
In September 1975, a group of expatriates and Kuching residents came together to revive the KSPCA. Their first meeting was held on the 10th of October at "Eversleigh", the residence of the then British Council Representative Mr Philips Williams. Others who were involved in the committee at that time were Dr Hsiung Kwo Yuen, Mrs Elizabeth Kok, Mr Chua Siang Cheng, Mdm Florence Foo, DSP Lim Tian Kim, Mr Andy Lo, Mr Ali Adenan and Miss Celine Foo.
In 1977, the Society's legal counsel, the late Mr Sahathevan revised the constitution to better reflect its rules and regulations. The amendments included a change of name – it became the Sarawak Society for the Prevention of Cruelty to Animals, or SSPCA. In the years that followed, this group of dedicated volunteers and their very active cadre of Junior Members, organised awareness - raising events, rescued and re-homed stray animals, initiated a pilot neutering scheme, and organized fundraising events. They were also instrumental in reaching an agreement with the local councils in Kuching to house and care for all the stray animals picked up by these councils. It's an agreement which has carried through to this day, and remains the only such arrangement between an animal welfare organization and local councils in Malaysia.
Perhaps their most notable achievement was securing tax-deductible status for the Society. This has proved an invaluable asset to the Society in its fundraising efforts.